48 hour game jam solo for Ludum Dare 33 which had the theme "You are the Monster. I chose to interpret this as a child in a Monster costume who has gone out Trick 'o Treating.
Ludum Dare 34 game jam with the theme "Two button controls". I wrote a
Blog entry
for this game jam.
January 2016 48 hour game jam with 5 co-workers from Team 3 at Blizzard. Kevin H. Dan B. Glen C. Mike H. Evan G. and myself
Made for Ludum Dare 38 the theme was "Small World". It's a cross between Minecraft, Factorio, Clicker Heroes and Takenoko.
Made for Ludum Dare 40 the theme was "the more you have the worse it gets". Launder money for the mob without attracting too much attention from the FBI.
Made for Ludum Dare 41 the theme was "Combine 2 incompatible genres". Click to shoot enemies. Click for upgrades. Buy a trophy to win!
Made with some Blizzard co-workers in our offtime - run through an infinitely scrolling level to light some hot peppers and collect candles
Ludum Dare 42 : "Running out of Space". You are a data engineer on a starship. Can you defragment the hard drive to make room for more data?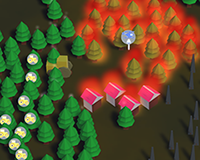 Ludum Dare 43 : "Sacrifices Must Be Made". Fight forest fires using a tractor, helicopter, and airplane.
Ludum Dare 44 : "Your Life is Currency". Play as a druid protecting the woods from invaders in this deck-building game.
Ludum Dare 45 : "Start With Nothing". Populate a tropical island with natives and coconuts
Enter your e-mail to be notified when a new game is released here or published on iPhone/Android!